Chronology
Joseph Beuys aged five with his mother and father in Kleves, 1926.
1921 May 12—Joseph Beuys is born in a hospital in Krefeld, Germany, to Joseph Jacob and Johanna Beuys, who live in Kleve, Germany.
---
1940 Finishes studies at Hindenburg secondary school in Kleve; decides to study medicine and become a pediatrician but is drafted into the Luftwaffe.
---
1941-45 Serves as a pilot and radio operator; is wounded five times.
---
1943 Winter—plane is hit by Russian gunfire; Beuys lands behind German lines and for eight days is cared for by Tartars, who wrap him in fat and felt; he is found by a German search party and taken to a military hospital.
---
1945 Incarcerated in a British prisoner-of-war camp in Cuxhaven, Germany.
---
1946 Returns to his parents' home in Kleve. Meets the van der Grinten brothers.
---
1947-51 Studies at the State Academy of Art, Dusseldorf, with the sculptors Joseph Enseling and Ewald Mame.
---
1950 Reads James Joyce's Finnegan Wake and gives a reading from it at Haus Wylerberg, near Kranenburg, Germany
---
1951 Begins work for private patrons. His first commission is a monument for Dr. Fritz Niehaus in the cemetery in Buderich, Germany.
Spring—the van der Grinten brothers begin their extensive collection of Beuys's work, buying a drawing and a woodcut for five dollars apiece.
---
1953 February—Beuy's first solo exhibition is held at the van der Grintens' farmhouse, Kranenburg.
---
1954 Early in the year—rents studio in the Heerdt district of Dusseldorf (remains until 1957).
Christmas—his fiancee ends their engagement; Beuys is thrown into a severe depression that lasts two years.
---
1957 April-August—works on the van der Grinten farm in Kranenburg.
---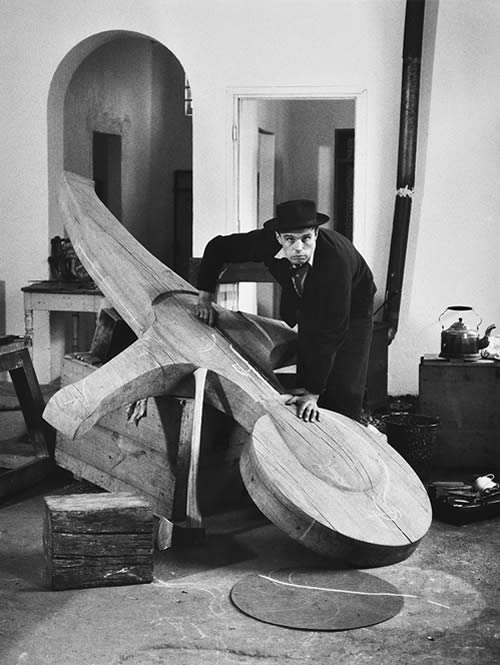 Joseph Beuys in his studio in the Kleves spa house, bent over the cross for the "Büderich Monument", 1959.
1958 Moves studio into the spa at Kleve (remains until 1961). Meets Eva Wurmbach.
---
1958-61 Adds two chapters to Joyce's Ulysses.
---
1959 September 19—marries Eva Wurmbach.
---
1961 Becomes Professor of Monumental Sculpture at the Dusseldorf Academy.
---
March—moves to 4, Drakeplatz, in Oberkassel district of Dusseldorf.
---
October–November—exhibition of drawings, watercolors, oil paintings, and sculpture by Beuys from the van der Grinten collection, at the Stadtisches Museum, Haus Koekkoek, Kleve; the catalog includes a text by Beuys.
---
1962-64 Involved with the Fluxus movement.
---
1963 Presents his first major Action, Siberian Symphony.
---
February 2-3—participates in the Festum Fluxorum Fluxus, a Fluxus concert for the students at the Dusseldorf Academy.
---
July 18—exhibits Fat Chest, his first work to use fat, in conjunction with a lecture by Allan Kaprow at the Galerie Zwimer, Cologne.
---
1964 June 27—participates in Documenta 3, Kassel, Germany.
---
July 20—performs Action at the Festival of New Art at the Institute of Technology, Aachen, Germany. Disturbances in the audience interrupt one performance; a student storms the stage and punches Beuys in the nose.
---
Joseph Beuys, The Silence of Marcel Duchamp Is Overrated, 1964.
November 11—the Action The Silence of Marcel Duchamp Is Overrated, with Beuys, Bazon Broch, Tomas Schmit, and Wolf Vostell, is broadcast live on German television.
---
December 1—Beuys performs The Chief, Fluxus Song at the Galerie Rene Block, West Berlin; Robert Morris performs the piece simultaneously in New York.
---
1965 June 5—Beuys performs in 24-Hour Happening at the Galerie Parnas, Wuppertal, Germany.
---
November 26—performs the Action How to Explain Pictures to a Dead Hare at the Galerie Alfred Schmela, Dusseldorf.
---
1966 Summer—Beuys and his wife visit Manresa, Spain, with the Danish artist and scientist Per Kirkeby and his wife.
---
October 14-15—Beuys performs the Actions Eurasia and 34th Movement of the Siberian Symphony at the Galerie 101 in Copenhagen.
---
1967 June 22—founds the German Student party (DSP) in Dusseldorf.
---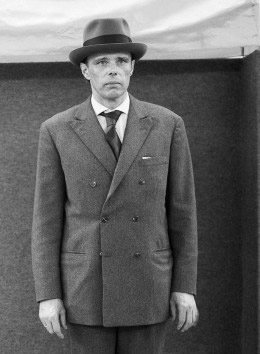 Joseph Beuys, Documenta 4, Kassel, 1968.
September—installs Parallel Process 1 at the Stadtisches Museum, Monchengladbach. 1968 Declares that art is life. June—participates in Documenta 4, Kassel.
---
November 12—ten fellow professors issue a declaration that Beuys's activities threaten the survival of the Dusseldorf Academy.
---
1969 February—takes blame for the snowfall of February 15-20.
---
May 7—the Ministry of Science and Research of North Rhine-Westphalia, responding to the Lidl demonstration at the Dusseldorf Academy, orders the police to close the Academy;
it reopens on May 12.
---
1970 March 2—Beuys founds the Organization of Nonvoters, Free Referendum Information Point, in Dusseldorf.
---
May 1—at an exhibition opening in Dortmund, Germany, meets Willi Brandt and explains some of his political ideas to the chancellor.
---
1971 February 10—Beuys, Erwin Heerich, and Klaus Staeck issue proclamation against the exclusivity of the Cologne Art Fair of September 1970.
---
June 1—Beuys founds the Organization for Direct Democracy through Referendum (People's Free Initiative), in Dusseldorf.
---
October 15—Beuys and his supporters occupy the administration offices at the Academy to protest the denial of admission to seventeen students; three days later the Ministry of Science and Research decides to admit the students.
---
November 1—Beuys founds the Committee for a Free College.
---
Joseph Beuys, Overcome Party Dictatorship Now, Grafenberger Wald, 1972.
December—with fifty students, sweeps out the Grafenberger Wald, a wooded area near Dusseldorf, in the Action Overcome Party Dictatorship Now
---
1972 June—October—at Documenta 5, Kassel, debates with the public for one hundred days straight on democracy, art, and related issues.
---
October 11—after Beuys and his followers occupy the administrative offices for the second time, Minister Johannes Rau instantly dismisses Beuys from the Academy.
---
1973 Becomes a member of the Anthroposophical Society.
---
April 27—founds a Free International College for Creativity and Interdisciplinary Research.
---
1974 February--establishes, with Heinrich Boll, the Free International University for Creativity and Interdisciplinary Research (FIU), in Dusseldorf.
---
May 21-25—performs with a live coyote in I Like America and America Likes Me at the Rene Block Gallery, New York.
---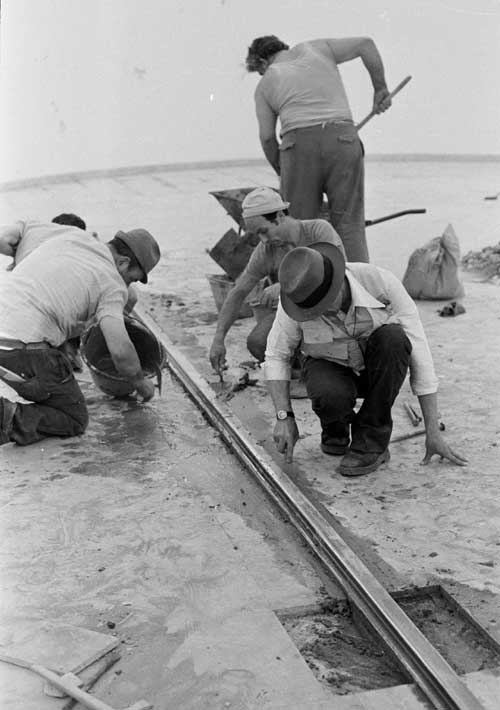 Joseph Beuys, Venice Biennale, 1976.
1976 July—installs Tram Stop at the Venice Biennale.
---
1977 June—installs Honey Pump at the Workplace at Documenta 6, Kassel.
---
1978 January 14—receives the Thorn-Prikker Medal of Honor in Krefeld.
---
1979 Runs for election to the European Parliament as the candidate of the Green party; loses.
---
October—represents West Germany at the sao Paulo Bienal; the Solomon R. Guggenheim Museum, New York, presents a major retrospective of Beuys's work.
---
1981 Major exhibition of works from Munich private collections at the Stadtische Galerie im Lenbachhaus, Munich.
---
1982 June 19—begins the Action 7,000 Oaks at Documenta 7, Kassel.
---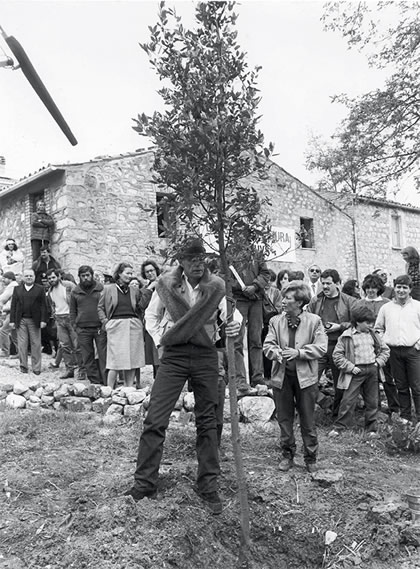 Joseph Beuys plants an oak in Bolognano, Italy, May 1984.
1983 December—installs Pain Room in the Galerie Konrad Fischer, Dusseldorf.
---
1984 June—exhibition of works at the Seibu Museum of Art, Tokyo.
---
1985 On Capri, recovering from a lung ailment, creates Capri Battery, his last multiple.
---
December 23—Palazzo Regale, Beuys's last installation, opens at the Museo di Capodimonte, Naples.
---
1986 January 12—receives the Wilhelm Lehmbruck Prize, Duisburg.
---
January 23—dies of heart failure.
---
1987 June 12—at the opening of Documenta 8, Kassel, Beuys's son, Wenzel, plants the last oak of the 7,000 Oaks Action.